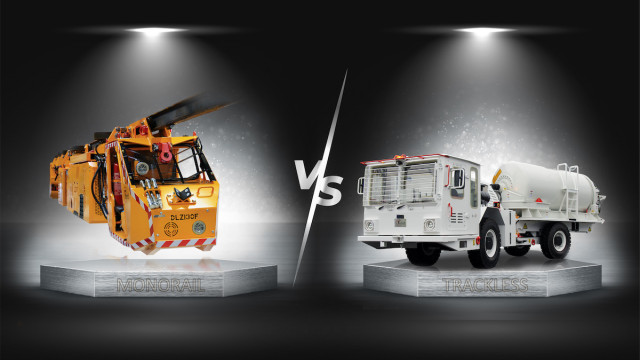 19. 10. 2021
Transport systems are the most important support systems in your mine. They ensure your material, equipment, and people are transported in time and in the proper quantities. They also make a noticeable impact on the speed, efficiency, safety, and cost effectiveness of your mine's operation.
A tale of two transport systems
Universal vehicles feature a wide range of slide-on / slide-off cassettes, which mount on their frame and are used for many different transport tasks.
Monorail locomotives are like suspended trains that ensure large-capacity transport of people or material over longer distances. When choosing between these two options, the pros and cons should be considered in the context of the following areas:
Type of mining operation
Material, equipment, and persons to be transported
Roadways
Geological conditions – subsoil and roof
Versatility / Modularity
Safety / Emissions
Type of mining operation
Trackless vehicles are popular in mining operations with gradients of less than 3°, such as open pit, block caving, room and pillar, and drift mining. They are also advantageous for use in mines that have an extensive network of roadways that require quick and efficient navigation.
The monorail system is a good choice for both horizontal and inclined mine shafts, as well as deep underground mining. They can operate in shafts with smaller dimensions and a wide range of gradients (up to 35°).
Material, equipment, and persons
Universal vehicles can carry out more tasks, as they feature slide-on / slide-off cassettes for transporting material, equipment, and persons. And if a wider variety of cassettes are required, costs can increase rapidly.
By comparison, the monorail system can transport much larger volumes, due containers that can be added and disconnected. It travels longer distances more efficiently and can navigate gradients up to 30°.
Universal vehicles and monorail systems can transport material, equipment (mining shearers, powered roof supports and other mining equipment), machine parts, and persons.
Roadways
Trackless vehicles require mine corridors that are wide and tall enough for them to maneuver, gradients up to 15° and a roadway with adequate subsoil. Subsoil management and maintenance are important considerations, as they require extra time and money. Traffic on the roadway can be a problem, as well as combining with other forms of transport.
Monorails can operate in narrower corridor (3.5m x 3.5m) and cross sections (up to 8m2), as well as negotiate horizontal curves down to 4m and vertical curves to 8m. Operation with gradients up to 20° without special tracks (up to 40° with rack and pinion tracks) is also possible. Monorail systems are easily combined with wheeled and tracked vehicles, relieve traffic on the roadway, and do not require subsoil management.
Installation
Nothing can beat the immediate use of trackless vehicles upon delivery, as well as their easy transport to other locations. Subsoil management, as well as the height, width, cross sections (no less than 18m2) and gradients (no more than 15°), are the only concerns. After the roadway is operational, ongoing inspections and maintenance are necessary.
Monorail systems require a suspended track, which is installed on a series of arch supports or anchored to the ceiling of the shaft. Regular inspections and maintenance are required for the track but are more cost effective than subsoil management.
Versatility / modularity
Both the Universal vehicle and Monorail system can be tailored to your mine's specific requirements. The Universal vehicle is compatible with a wide variety of slide-on / slide-off cassettes and the monorail system features individual cabins that can be easily disconnected and added.
Safety / emissions
Trackless vehicles and monorail systems are safe, but there is a possibility that trackless vehicles could collide with people, other transport vehicles and obstacles in their path. Due to the suspended operation of monorails, collisions are eliminated.
If diesel engines are used, emissions of particulates occur, as well as extra noise created by the engines. Electric powered and battery powered operation of monorails are currently more common, which have no emissions. Battery-powered wheeled vehicles exist but are rare. Another consideration is the dust that wheeled vehicles create, which has a negative impact on air quality. Special trackless vehicles and monorail systems are available for use in mines with risks of explosion.
What's the verdict?
Either of these systems would be an excellent choice for your mine. You just need to weigh the pros and cons of each before choosing the one that will serve your transport requirements best.