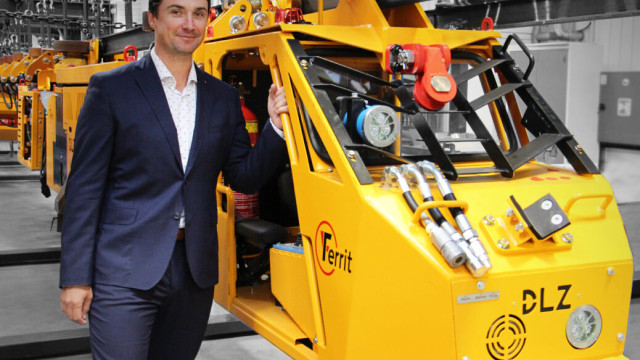 5. 4. 2022
Ferrit had a successful 2021. Our major activity, the manufacture of suspended monorail transport systems, continues to grow stronger. We launched three new locomotive types for these systems in several markets around the world in 2021.
And for 2022, we are planning a drive to increase our presence in more international markets. With customers and representative offices already present in a number of countries, such as China, Turkey, Vietnam, India, Mexico, Colombia, this year our focus is expanding into Africa through South Africa and Zimbabwe.
Ferrit develops and markets machines that are custom-engineered to customer requirements for specific conditions within their mines, as well as new systems based on the increasing sustainability requirements from government regulations around the world.
Our multi-million Czech koruna investment in research and development continues to provide innovative solutions for our customers, with the production of a new 17 ton LHD wheel loader, given the designation DNK17, for a major mining company that produces metals.
Following the development of the DNK10, DNK14 and DNK7 type of LHD loaders, a new wheeled dumper is being developed jointly in partnership with the same client, which will have the designation DSK. These dumpers will be capable of transporting loads of 30 and 45 tons.
Ferrit also delivered new ground rail trolley locomotives to another mining company, which is one of the world's largest producers of palladium, nickel, platinum and copper. This customer also received a variety of more than 22 mining machines, including TLP120F trolley ground locomotives, PLP diesel ground rail locomotives and DKB130F mining rail diggers.
Autonomous transport systems
The company is investing heavily in designing and producing cutting-edge autonomous transport systems for mines, which are in great demand by companies around the globe. We have successfully signed contracts in 2021 for 'Drive Assist', the solution built around our range of ground rail locomotives.
We also plan to develop such a system for wheeled loaders, as Ferrit believes that automation is the future of transport within mines. Autonomous transport systems have amply demonstrated increases in worker safety, efficiency of mining, lower environmental impact, and of course, a big drop in costs.
One of Ferrit's crowning achievements is its entry into the tunneling machinery segment, with the introduction of their largest ground rail locomotive, designated the PLP450F. This year, we plan to further develop this platform by creating different wagon designs to increase its appeal and versatility to current and prospective customers.
Digital communications systems are a key part of Ferrit's forward plan for their business. We have invested in such communication technologies to train our service technicians. Utilising 'RealWear', a ruggedized, wearable smart glasses system with hands-free technology, Ferrit can train our personnel in service centres around the world, and also provide real-time service and advice to our international customers without having to send Ferrit specialists to client sites.
Ferrit future is greener
In its drive to create more sustainable machinery with autonomous solutions for the global mining industry, Ferrit's R&D department is working hard to introduce their own lithium battery for electric locomotive drives for 2022.
This new battery is being designed to be used in the extremely hazardous conditions that can prevail within mines. They will be manufactured to the ATEX standard. ATEX, which stands for 'Atmospheres Explosibles' is a name for the two European Directives for controlling explosive atmospheres.
These new battery designs will improve the performance parameters of Ferrit's machines, i.e. carrying heavier and larger loads, being able to operate in much steeper tunnels, be smaller in size but having larger capabilities. Our R&D department has complemented them with custom-designed charging stations, also under the ATEX regulations.
Ferrit's business development teams will, of course, be placing an even greater emphasis on gaining global customers in the ore segment. R&D will continue to develop and innovate machines and systems that will focus on sustainable mines and mining, with an emphasis on mine transportation using more electric and hydrogen-based power.