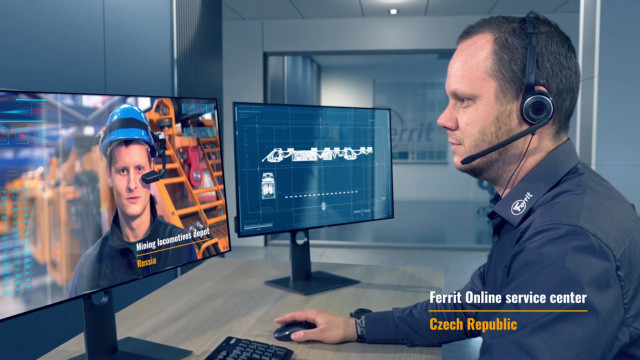 14. 7. 2021
Automation, or autonomous transport, is something that a lot of companies in the mining industry are looking into these days. FERRIT is on top of this trend, with the company's R&D department currently developing its own autonomous systems.
It was a challenging task at the beginning but, according to FERRIT, the company has now successfully implemented an autonomous system on its locomotives and is currently carrying out intense testing. As a result, FERRIT has already signed a contract for delivering several of these machines in late 2021.
However, not wanting to rest on its past achievements, the company is continuing to further develop a system for wheeled loaders, with the project already beginning to take shape. Like all mining companies, FERRIT believes that automation is the future of transport within mining shafts. Implementing autonomous transport systems will increase work safety and the efficiency of mining itself.
MAINTAINING CUSTOMER SERVICES IN UNCERTAIN TIMES

Aside from automation, FERRIT has made other investments to ensure that its services are delivered on time for customers, even in the face of Covid-19 restrictions and other future obstacles. The company has established service offices for its key customers in many locations around the world, allowing it to provide customers with immediate services, including the supply of spare parts.
FERRIT is constantly investing in new technologies, including modern communication technologies for the training of its service personnel. For example, through the use of "RealWear" (hands-free technology), the company can train personnel at any time within its service centres and provide service interventions for its customers without the need for FERRIT specialists to be physically on-site.
LOOKING TO THE FUTURE AS A GLOBAL LEADER

As a business, FERRIT never stops innovating, and is constantly evolving. The company has been focusing on the ore industry for the past several years and is developing transport solutions for this sector. It didn't take FERRIT long to adapt to the requirements of ore mines, and the company has already installed more than 15 of its machines at ore mining sites.
FERRIT strives to remain a valued partner for its customers, and the company's focus is on creating the right conditions and delivering intelligent solutions that ensure complete customer satisfaction. It is important to note that the transport optimisation projects FERRIT provide to its coal mine customers, which save them millions of dollars each year, are also offered to its ore mine customers.
Thanks to these many advantages, FERRIT has become very successful and respected all over the world. The company does not shy away from challenges and always meets its customers' requirements. Thanks to the specialised experience and know-how of FERRIT's R&D department, nothing is impossible, and there is a very bright future ahead with the products and services the company and the FERRIT Group family will provide to its constantly growing, worldwide customer base.