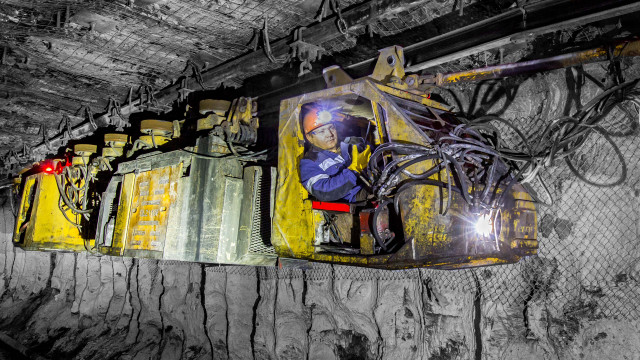 12. 12. 2020
Today, suspended monorail transport is the most efficient and cost-effective way of transporting people, equipment and materials in underground mining environments.
In this article, Barbora Veličková, Sales Director for Europe, FSUR, Africa and Latin America at FERRIT, and Hynek Kovář, the FERRIT's Sales Director for the Middle East, Asia, Australia and North America, explore some of the more technical aspects of the suspended monorail transport system, revealing its particular advantages.
ADVANTAGES OF THE MONORAIL SYSTEM
There are a number of significant advantages to using suspended monorail transport systems in underground mines. Firstly, unlike conventional ground transport systems, monorail systems can be used in mines with inclinations up to 40 degrees depending on the type of suspended track used.
In addition, the cross-section of a mine can be significantly smaller when using a monorail system than when using other types of mine transport, while footwalls within a mine remain available for alternative use once suspended transport is installed.
Because of its efficiency and low operating costs, monorail systems are used increasingly widely in coal mining, as well as in ore mines. Indeed, monorail systems are fast becoming the key components in all mining projects where steps have been taken to optimise transport systems, and where it's possible to combine wheel and rail transport.
Suspended rail systems are suitable for both vertical and inclined mine shafts. In the case of an inclined shaft, the mine's depots can be located at either end of the shaft while the monorail system connects workspaces within the mine, both at the top and bottom of the mine shaft.
HOW THE MONORAIL SYSTEM WORKS
The key component of suspended monorail transport systems is the track. This consists of a single rail with a load-bearing rail profile of I155, including suspension elements, railroad switches, bends and other accessories. The track itself consists of individual rail segments anchored to the roof of a mine shaft.
The way the track fits together means that monorail systems can be installed either horizontally or vertically, depending on the requirements of a particular mine. With the additional use of traction and handling equipment, it is possible to transport loads up to 100t using monorail systems. However, when operating in high humidity where adhesion conditions within a mine are deteriorating, or in inclinations up to 40 degrees, rack and pinion systems would be the more appropriate choice.
The movement of locomotives or manipulators in monorail systems is provided by a set of drive units. These convert electrical or hydraulic power into motion, driving the monorail's mechanical actuation system. Traction force to the track is transmitted by hydraulic engines. Downward pressure on the track is provided by a cylinder, which replaces the adhesive weight and provides force for braking. The number of drive units required depends on the inclination of the mine and the weight of the loads needing to be transported.
TAILORED TRANSPORT FOR ANY MINE
There are two basic types of traction unit for suspended transport systems: mining suspended locomotives and mining suspended manipulators. Mining suspended locomotives are like suspended trains. They ensure the transport of people and material in larger quantities and over longer distances. Mining suspended manipulators are used more to ensure material handling in the vicinity of specific mining workplaces.
Suspended transport systems are simple and modular, meaning that each system can be tailored to the specific requirements and conditions of a mine. If required, hydraulic lifting units (with a load capacity ranging from 8t to 40t) can be attached to the suspended transport system. These can then be used to suspend containers for carrying material or a cabin for transporting personnel.
Suspended systems are also used to transport individual machine parts, such as mining shearers, powered roof supports and other important mining equipment. The big advantage of suspended transport systems is that more lifting units can be attached and integrated behind one another, providing a greater load capacity overall.
Locomotives and manipulators can be manufactured according to various specifications, and are powered either by diesel engines, electric cable or battery. All equipment in suspended transport systems are non-explosive, and can therefore be used safely in mining environments where there are risks of explosion from things like gas and coal dust.
MONITORING PERFORMANCE
The suspended monorail locomotive consists of the following parts: the engine, the auxiliary section, the propulsion units and the cabins (for operating the locomotive), which are located at both ends of the set.
Individual parts of the locomotive are connected to each other with special connecting rods. The locomotive's control system monitors and determines its operating parameters. Using a mine's central communication system, data about the locomotive's location and performance can be transferred to the mine's operations department, otherwise known as central dispatching.
Locomotives are equipped with a camera monitoring system that allows the driver to monitor what is happening at the other end of the set. All types of suspended locomotives can be controlled using the REM-CON remote control.
SIMPLE, MODULAR SYSTEMS
As previously outlined, the suspended monorail transport system is a modular system that allows customers to tailor sets according to their specific requirements, and to specific mining conditions. At FERRIT, our large portfolio of options in the suspended transport category means that we can work with customers to create an almost infinite number of sets.
A perfectly functioning transport system requires a tailor-made solution. And, just as there are indefinite numbers of mineral deposits around the world – all of different types and shapes – to which mining methods and technologies must adapt, so must the transport systems and facilities that enable it.
Thanks to nearly three decades of collaboration with our customers, FERRIT has built a wide portfolio of mining transport equipment options. Each of our transport sets is unique, and with our experience we can optimise the system in any underground mine, either coal and ore, for our customers.

Learn more about how a FERRIT monorail system can greatly benefit your transport needs and help reduce costs by contacting us today at +420 778 491 237 or [email protected].