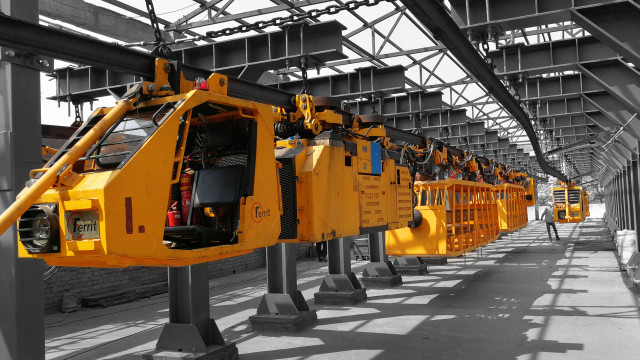 19. 11. 2020
With a history dating back nearly 30 years, FERRIT Global Mining Solutions has become one of the leading producers of suspended transport systems for mining globally.
Barbora Veličková, the company's Sales Director for Europe, FSUR, Africa, Latin America, and Hynek Kovář, Sales Director for Middle East, Asia, Australia and North America, spoke to Mining Technology about the benefits of FERRIT's monorail system, and what makes their company stand out from competitors.
Q: What is the monorail system and how did it come about?
Efficient, economical and safe, the monorail system is one of the best ways to ensure the transportation of people, material and other loads in underground mines, both in coal and in ore.
The need for suspended monorail transport occurs mainly in smaller sections of mines, where tunnels are narrower and inclines are greater than ten degrees. In the past, loads from these sections were transported by winches on ropes that were pulled over the mine's base surface. This method was neither efficient nor safe, causing frequent accidents and injuries to miners.
The monorail system consists of a track suspended from the roof of a mine, either with bolts or on the mine's arch reinforcement. The track itself uses a system of sections connected by switches and anchoring elements.
There are two basic types of traction units for securing suspended transport systems: monorail locomotives and monorail manipulators. Monorail locomotives are like suspended trains that ensure large-capacity transport of people or material over longer distances, while monorail manipulators are used to ensure material handling in and around specific workplaces in a mine.
Monorail locomotives are tailored to the specific requirements and conditions of a mine. Hydraulic lifting units (with load capacities ranging from 8t to 50t) can be attached to the monorail locomotive set, on which containers for material or a cabin for people are suspended.
Locomotives and manipulators are manufactured in various modifications and can be either diesel, electric or battery powered.
Q: What are the monorail system's key benefits?
The monorail system is a highly efficient alternative to ground rail and wheeled transport systems. They carry large volumes of material over long distances, and because they're modular, monorail systems can be used for either passenger or material transport.
With suspended transport, a mine's subsoil requires no maintenance, and the need to inspect the condition and quality of subsoil is limited. The suspended monorail track is easy to install, easy to maintain and can be re-used in other parts of the mine.
Assembly of the suspended track follows the advancing construction of a mine tunnel, so that all material needed to build the mine can be immediately transported to the face of the excavation along the newly built track. Tunnel builds can therefore proceed smoothly and with very few breaks.
Using the monorail system means that mines can be designed and built with tunnels that have much narrower cross-sections and higher inclinations, bringing huge savings. Mines that use wheeled transport systems require tunnels with a cross-section no less than 18m2 and inclinations up to 15 degrees. But in mine tunnels using suspended transport, the cross-section can be as narrow as 8m2, while the tunnel inclination can be up to 30 degrees, or 40 degrees with a rack-and-pinion system. The monorail system is therefore considered the significantly cheaper option for building mines.
Transport systems are the most important support processes in mining, and they can significantly affect productivity. If neither material nor people can be transported on time and in the required quantities, then activity and performance drops, while costs mount.
The monorail system is tailored to specific mining conditions, technologies and the needs of individual miners. It keeps operating costs low, and reduces traffic density inside the mine. Harmful exhaust gases in the air are minimised, and safety improves as the number of workplace accidents declines.
Q: Tell us more about FERRIT. What is the company's background?
FERRIT was founded in 1993 in the Czech Republic by three partners with experience working in engineering and mining throughout the former Soviet Union.
The company is from a region with a long coal mining tradition, so we're very close to that industry. In the beginning, we focused mainly on developing and producing mining equipment for our nearest customer, the mining firm OKD.
Thanks to our close cooperation with OKD in the Ostrava-Karvina coal basin, we developed and marketed machines that were tailor made for customers and the specific conditions within mines. Gradually, we expanded our product range of monorail and ground rail transport.
In the following years, FERRIT expanded into new markets. Our first steps led to neighboring countries Poland, Russia, Ukraine and Kazakhstan. Currently, our important overseas markets also include China, Turkey, Vietnam, India, Mexico, Colombia, and we're expanding into Africa through South Africa and Zimbabwe.
Today, FERRIT employs almost 350 people in the Czech Republic, and a similar number internationally, in branches and representations overseas.
Q: What makes the company stand out from competitors?
The simple answer is our personal approach to customers, our flexibility and our reliability. Thanks to our many years of experience, our strong team of specialists and our wide production portfolio, we offer customers a comprehensive tailor-made transport system solution.
A mine's transport system needs to consider many factors, including transport distances, number of workplaces and workers, types of material and quantity to be delivered to workplaces within the mine. We develop comprehensive solutions, always with clear goals.
Q: What are FERRITs company values?
We know the value of investing in our people. In business, people are always the basis of success and growth. Without the enthusiasm, commitment and personal approach of our people, we would not have such a strong customer base.
At FERRIT, we've built strong teams of experts wherever we have a presence, whether it's in the Czech Republic or in branches and service centers abroad. We've brought together people of different cultures from all over the world to create a large, diverse family.
Q: What gets you excited about projects you work on?
Every project is different, and interesting and exciting in its own way. At every stage of a project, there may be challenges to overcome. Yet each phase can be exciting. From the initial mapping of a mine's existing transport system, to designing the solution, elaboration and implementing the solution, to the final phase when we see the result.
All this takes place in close cooperation with experts at the mine. It's a wonderful feeling to see satisfied miners using our solution, as well as satisfied managers seeing output and overall production performance of the mine improve.
Contact us today at +420 778 491 237 or [email protected] to arrange a meeting or request more information about how a FERRIT monorail system can optimize transport in your mine and save you money.